How to use Instagram for your business
How to use Instagram for your business
By now, you must have seen the potential of using Instagram for your business. Wheter you have a physical or online business, there are always great opportunities on social media. And especially on Instagram. Instagram offers a lot of features for small and large businesses. In this article, we will give you 10 possibilities to use Instagram for your business.
Why should you use Instagram for your business?
First of all, why would you even use Instagram for your business? We explained already that there are a lot of opportunities for a business on social media. It's one of the most popular social media networks (source: Data Reportal). According to Instagram itself, 81% of the users say Instagram helps them research products and services (source: Instagram). Why would you miss out & not use Instagram? Use our 10 tips and become succesful on Instagram.
1. Set up your profile
It's important to make sure that the basics are professional. This might be something self-explanatory, but is often forgetten. Make sure you change your profile to a professional account, so you have insights & other features available.
2. Optimize your profile looks
Your bio is a great way to express what your business is about. Make sure that your bio describes your business & add a call to action. Use a professional profile picture. Usually that's the logo of your brand / business. You can use the highlights function to get extra attention of your previous stories. If you own a restaurant, you can for example use a highlight for the menu & include all the dishes you have on your menu. If you own a watch store, you can use a highlight to show your current stock. People don't have to take an extra step & go to your website. In stead they can see your products on your Instagram!.
An great example is @freddysusa. They have a great looking profile. They use highlights, have a nice bio with a call to action (Tag your Freddy's photos with #ilovefreddys for a feature!). The link in bio is a URL shortener, which shows their menu, other social media platforms & a shop. Great to promote different things through the one link, as Instagram only allows one link in your bio.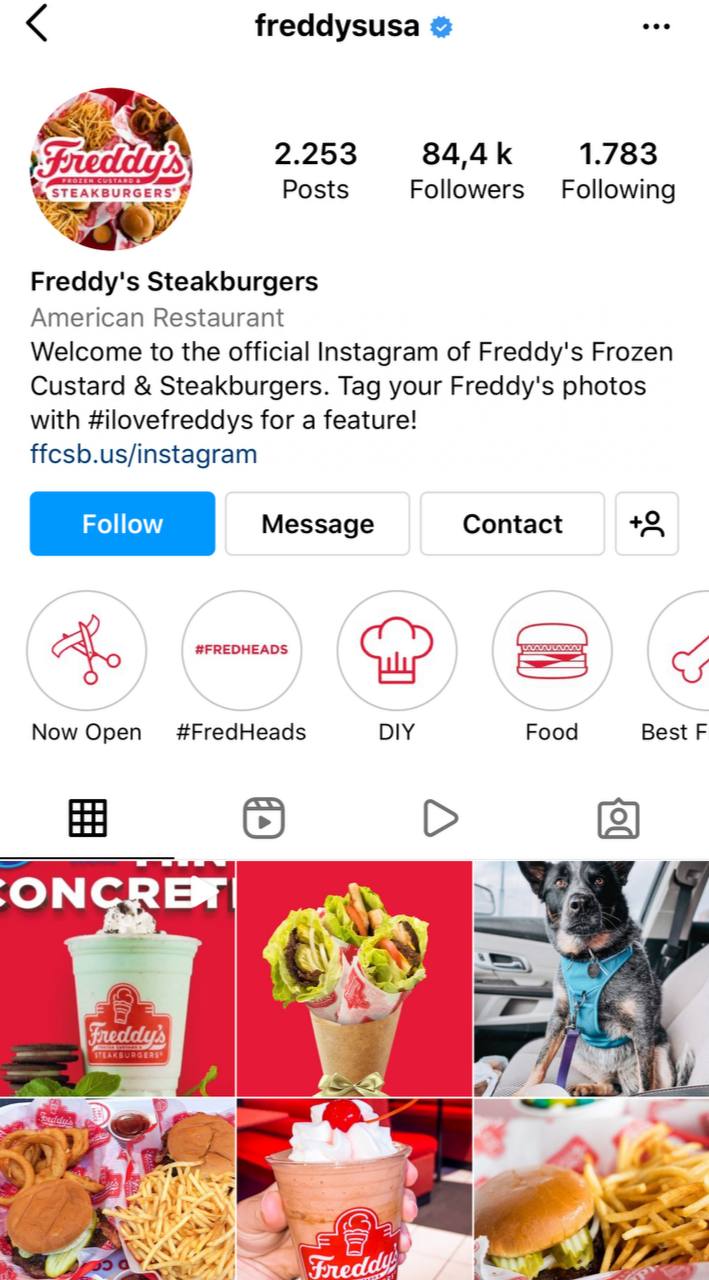 3. Use geotagging
If you are posting from a physical location, add the location to the Instagram post. If you forgot it in the past, you can still edit a post & add the location to it. Same as hashtags, Instagram compiles all location tagged posts at that specific location. Using geotags, adds up to your brand awareness & it helps potential customers find your business. It also will make people use your geotag as well, which gives other potential customers an idea what to expect at your business.
4. Use save posts function
This is not related to your public Instagram strategy, but more useful for boosting your own content strategy. Are you having difficulties with inspiration? Browse your competitors on Instagram. On Instagram you are be able to save posts. You can sort them into a collection & view the posts later. You can use saving posts for:
See what competitors are posting
Save potential influencers, which you can contact later
Happy & unhappy customer posts
Caption inspiration; captions you can use as inspiration in the future
Visual inspiration; use the post type as inspiration
Ideas; future idea posts
5. Use the story function
This might sound obvious, but please use the story function. You can plan posts, all day long. But nothing is as personal as stories. They can be used to create a 'relationship' with your followers. Let people ask questions, use polls, etc. It is the perfect way to interact with your followers, in a natural way. And of course; don't forget to add a call-to-action to promote your products/services, here and there 😜
Stories are also a great way to push promotions & sales. Do you have a black friday sale? Stories are great to promote that. Add a link in the story & you have a potential sale.
6. Use story highlights
We have informed you earlier in this article about story highlights. Besides the fact that organized story highlights, make your profile look professional, they also give you the chance to showcase what your business is about. When a potential customer visits your profile, often highlights are one of the first things they go through. You can display basic stories, such as:
Products/services: show the products and/or services you offer
Locations or highlights per location: does your company have multiple locations? Show each of them in one highlight or show stories from each specific location in a highlight
Most asked questions: If you are often receiving questions, you can use this area to answer the most asked questions. It provides your customers information/value & saves you a lot of time
Products/services features: make an overall highlight or one product/service highlight, to showcase the features of a product or service. You can also add a link to your website in a story, so they can see the full review on your website
Customer reviews or posts: did a customer tag your business in their story? Repost it & add it to a highlight. Did a customer leave a good review about you somewhere (TrustPilot, Google Business, Yelp, etc.), show it to the audience! The best way to generate social proof & might trigger a lot of sales
7. Create guides
Guides is a relatively new Instagram function. It's a great way to use Instagram for your business. It's very editorial & almost as if you're reading an article. You can include feed posts & photos.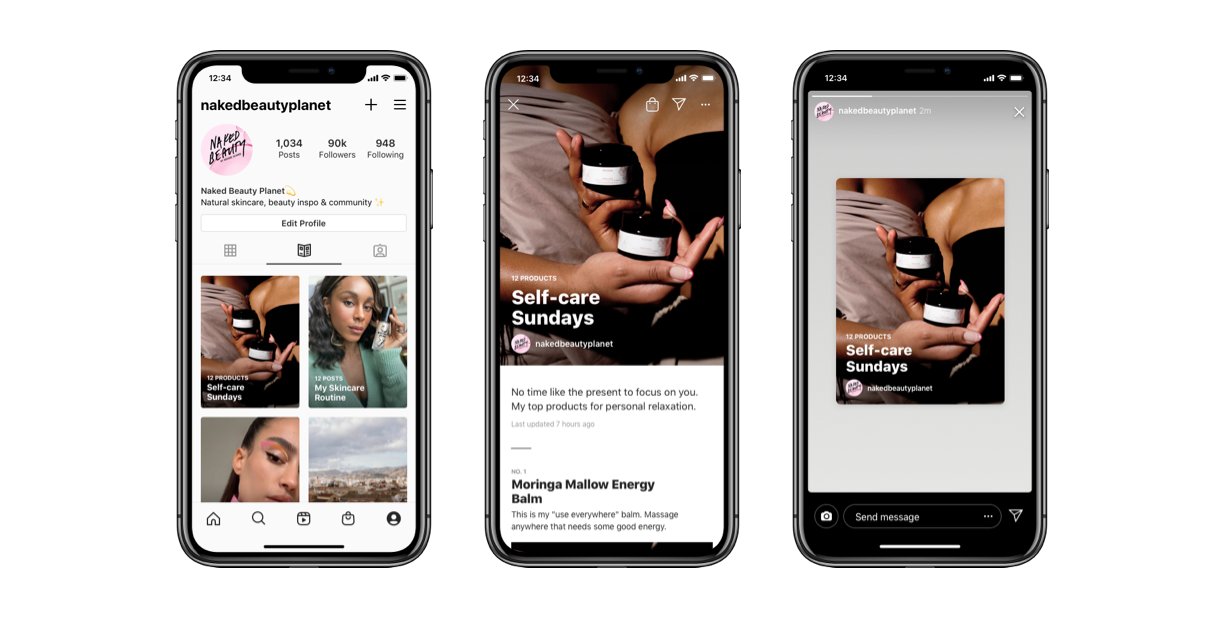 You can write about your product or service & add captions. It's a great way to compile a list of recommendations, or create guides featuring your products and services. This function is not often used by businesses & can make your business outstand.
8. Offer 'followers-only' promotions
Have you ever heard of someone who does not like promotions? So don't we. Literally everyone loves sales! Want to use that? Add exclusivity & voila, there is the perfect promotion. If you're running a followers-only promotions, you won't only gain followers. You also give them the feeling that they're special. And who does not want to be special?
Use countdown stories, polls & stickers in your story, to hype the promotion. To add fear of missing out, you can randomly do 1 hour promotions via your story. If your followers love your brand, they will freak out if they missed the sale!
9. Interact with followers
This is one of the most important things, if you want to succesfully use Instagram for your business; interact with your followers! Instagram is not only about pushing your content, it's also about hearing your customers. Did any of your followers leave a positive reply to a post? Reply & show them that you appreciate him or her. Did any of your followers leave a negative comment? Don't ignore or remove the comment, make sure you turn the negative experience into a positive experience. Where you might feel it is lost time, you can often turn a negative experience into a returning client, by responding correctly & making sure the problems are solved.
Also, be responsive in your DM inbox. People will ask you question about your business. Make sure to answer them & help them. You can't even imagine how many hot leads are lost in the DM's, just by companies that are not responding to them. You can use Facebook Creator Studio, to easily access your Instagram inbox.
10. Buy an Instagram account
If you are staring out on Instagram, it might be hard to build a following. In fact, it can take years before you have your first 1000 followers. After the first 1000 followers, you often see it easier to grow a following. It gives snowball effect. To skip the hassle & time of building a following, you can buy an Instagram account. You can start with 5k or 100k followers. It's possible to completely rebrand an account with an existing following. So it looks like your audience is organically built & makes someone buy something earlier from you.
Find all our Instagram accounts here: Instagram Accounts for Sale.